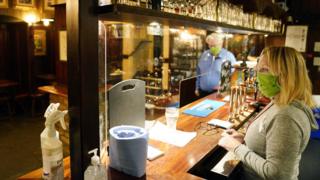 Image copyright
EPA
Rishi Sunak's new jobs support scheme will slow but not stop, "major" job losses, influential think tank the Resolution Foundation has warned.
The chancellor said he hoped the new plan, announced on Thursday, would "benefit large numbers".
But the Resolution Foundation said the fact firms had to pay employees for hours not worked meant many would have "little or no incentive" to use it.
The plan "will not significantly reduce the rise in unemployment," it said.
The Foundation also highlighted that around six million of the UK's poorest households could see their incomes cut by £20 next April, when the government's temporary boost to basic benefits comes to an end.
The Job Support Scheme, which will replace the furlough scheme, will see workers get three quarters of their normal salaries for six months.
To be eligible, employees must work for at least one third of their normal hours.
For the hours not worked, the government and employer will each pay one-third of the remaining wages.
Torsten Bell, chief executive of the Resolution Foundation, said the higher contribution required from firms, compared to the furlough scheme, meant the new Job Support Scheme "will not live up to its promise to significantly reduce the rise in unemployment."
At the start of the pandemic the government sought to reduce the economic impact of lockdown measures by temporarily boosting the standard allowance you collect if you claim benefits by £20 to £94.25 a week.
That served to soften the income shock endured by workers moving from a job to benefits, which pay less than a fifth of the average wage.
The Resolution Foundation's analysis points out that the Chancellor Rishi Sunak has chosen not to extend that temporary boost beyond April next year.
That means that in April, at a time when unemployment is likely to be rising quickly, well over six million families already on benefits will see their incomes cut by £20 a week.
And because they'd be forced to spend less, it would also reduce the overall level of demand in the economy, making more job losses more likely.
The Foundation's report notes, for example, that it would cost a firm £1,500 to employ one full-time worker on £17,000, but more than £2,000 a month to employ two half-time workers on the same full-time equivalent salary.
One full-time worker on £10,000 would cost £800 a month, compared with £1,100 a month for two half-time workers.
The government has stressed the scheme has been gratefully received in many quarters.
The chief secretary to the Treasury, Steve Barclay, told BBC Breakfast that "many employers value the flexibility of being able to tailor how much time employees are working as we go through uncertainty of winter months".
Mr Barclay said the scheme has been "so warmly welcomed" by the likes of the CBI, FSB, business leaders and trade unions, as well as sectors such as aerospace and hospitality,
He said that businesses want to retain their skills and expertise of the labour market, and "wanted the ability to bring people back on a part time basis".
Missing out
The Foundation said that a single adult homeowner earning £20,000-a-year would face an income reduction of around 19% if they worked a third of their previous hours on the jobs support scheme, compared with a 70% drop were they to lose their job completely and move onto Universal Credit.
However, employees only benefit from the Job Support Scheme (JSS) where employers choose to use it, and the scheme is far less generous for firms which gives them little or no incentive to use it, the Foundation said.
Meanwhile, industries hit hard by the coronavirus pandemic are facing further uncertainty after missing out on help in the chancellor's new emergency jobs scheme.
Hospitality, events and retail workers and businesses have expressed concern, as have those on zero-hours contracts.
Rishi Sunak said employees must be in "viable" jobs to benefit from the wage top-up scheme.
This means people working in industries currently closed - such as nightclubs - may lose out as there isn't any work.
Mr Sunak said he hoped the new plan, announced on Thursday, would "benefit large numbers", but warned the government "can't save every job".
Opposition politicians have called for more emphasis on training for workers losing their jobs.
Shadow chancellor Anneliese Dodds told the BBC a national training strategy was needed "so that when people become unemployed, they can hopefully be retrained with new skills".
The Lib Dems' Christine Jardine also criticised the lack of focus on training. She told the BBC that while the jobs plan was described as a "bridge for the economy", she wanted to know "where will it take us?"
How will the Job Support Scheme work?
The government will subsidise the pay of employees who are working fewer than normal hours due to lower demand It will apply to staff who can work at least a third of their usual hours Employers will pay staff for the hours they work For the hours employees can't work, the government and the employer will each cover one third of the lost pay The grant will be capped at £697.92 per month All small and medium-sized businesses will be eligible Larger business will be eligible if their turnover has fallen during the crisis It will be open to employers across the UK even if they have not used the furlough scheme It will run for six months starting in November
Have you missed out on the chancellor's new emergency jobs scheme? Do you have any questions? Share your experiences by emailing haveyoursay@bbc.co.uk.
Please include a contact number if you are willing to speak to a BBC journalist. You can also get in touch in the following ways:
WhatsApp:
+44 7756 165803
Tweet:
@BBC_HaveYourSay
Please read our
terms & conditions
and
privacy policy