1 min ago
Trump's expected Supreme Court pick seen leaving her Indiana home
From CNN's Annie Grayer
Judge Amy Coney Barrett and her family are seen leaving their South Bend, Indiana home on Saturday, September 26. CNN
Judge Amy Coney Barrett, who sources say Trump intends to nominate to the Supreme Court, and her family were seen leaving their South Bend, Indiana, this afternoon.
Barrett, her husband and her children were seen in fancy attire. Prior to Barrett herself walking out, her children loaded suitcases into the car. Barrett drove one car and her husband drove another car, splitting the kids between the two of them.
She did not answer questions about where she was heading or if the President had called her to offer her the Supreme Court nomination.
You can read some of Barrett's most notable dissents here.
CORRECTION: This post has been updated to correct the city in which Barrett resides.
28 min ago
Activists paint "We Call BS" outside Mitch McConnell's house
From CNN's Rachel Janfaza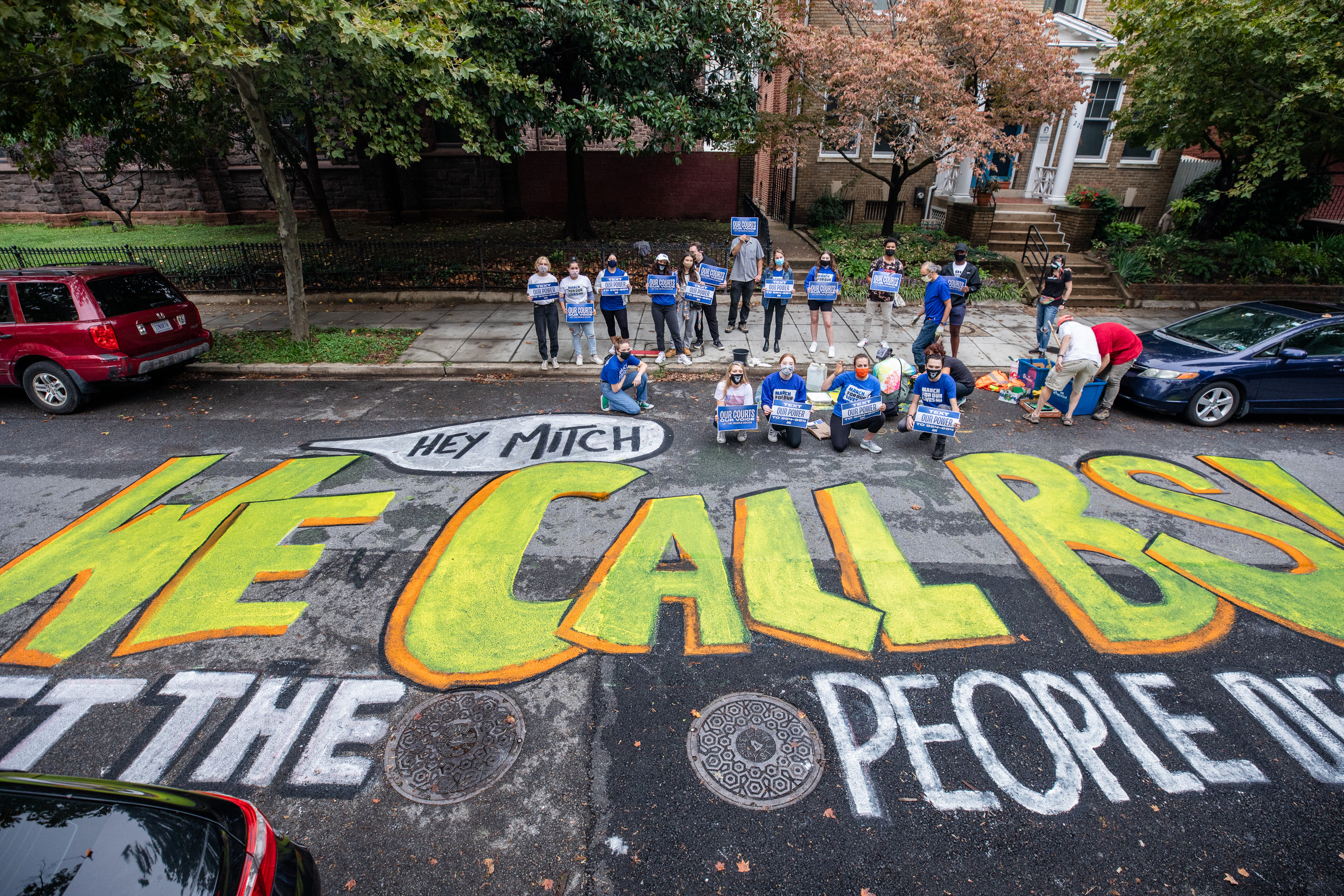 Courtesy Gregory Berg
Ahead of Trump's scheduled Supreme Court nomination announcement, March For Our Lives organizers teamed up with Demand Justice, a progressive organization focused on balancing the courts, and artist Nadine Bloch to paint "We Call BS" outside Senate Majority Leader Mitch McConnell's house Saturday.
March For Our Lives — the gun violence prevention organization founded in the wake of the Parkland school shooting in 2018 — advocates for gun violence prevention laws. Organizers say they believe that Judge Amy Coney Barrett, who sources say Trump intends to nominate, would be detrimental to the goals of their movement.
In recent months, March For Our Lives has taken up a number of other social causes including voting rights, police violence and other intersectional issues, organizers say.
Some background: The phrase "We Call BS" has been coined by March For Our Lives as a way to show frustration and has been used by young activists who demand change from elected officials.
"MFOL really began with Emma's speech in 2018 where she famously said 'we call BS' on the gun lobby and politicians who fail to act and protect our lives and that we demand that the people in power, the adults actually do something to protect us the children who are affected by gun violence," David Hogg, the co-founder of March For Our Lives, told CNN.
About a dozen organizers joined in to paint the mural on Saturday, according to those present.
Why McConnell's house: Organizers are specifically targeting McConnell for his role in pushing forward a Supreme Court justice nomination process, as well as his commitment to the gun lobby, they said.
"We are doing this in front of Mitch McConnell's house right now because we believe that the American people should be able to make their voice heard in determining who is the next supreme court justice is after the election," Hogg said.
"We're outside of Mitch McConnell's house because he has the power to listen to the will of American people and fulfill RBG's dying wish, just as he has had the power to bring bi-partisan house-passed common sense legislation to a vote. Unfortunately he has proven time and time again that he is beholden to the gun lobby and special interests over the desires of his constituents in KY and the American people," Eve Levenson, the 20-year-old policy and government affair manager for March For Our Lives said.
March For Our Lives organizers told CNN they in part disagree with pushing forward on a Supreme Court nomination process because American voters have already started to cast their ballot in the 2020 election.
"We demand that Mitch McConnell let the people decide who will nominate the next supreme court justice. If all goes as he wants it to, over 40% of the country will have voted when the decision is made. that's not democracy. We call BS," Maxwell Frost, the 23-year-old national organizing director for March For Our Lives said.
52 min ago
Republicans have hinted at a quick SCOTUS confirmation process. Here's the possible timeline.
From CNN's Clare Foran
President Donald Trump is set to announce a Supreme Court nominee to fill the vacancy left by the death of Justice Ruth Bader Ginsburg this evening, formally kicking off a contentious and high-stakes battle over the fate of the court that will play out in a bitterly-divided Senate.
Senate Republicans, who have the majority in the upper chamber, have signaled plans to quickly move to take up the nomination, setting the stage for the possibility of a final confirmation vote before Election Day.
Here's how that could happen:
The hearing: Multiple sources familiar have told CNN that both the White House and Graham are targeting the week of Oct. 12 for the nominee's confirmation hearing. The vote: That would allow for a confirmation vote by Oct. 29, hitting a pre-election timeline that the White House and congressional Republicans are increasingly coalescing behind. The election: Election Day is Nov. 3.
A confirmation vote by October 29 — if it were to happen — would mean only around 33 days between the announcement of a nominee and the vote to confirm.
1 hr 41 min ago
The Pences will attend Trump's SCOTUS announcement today
From CNN's Sam Fossum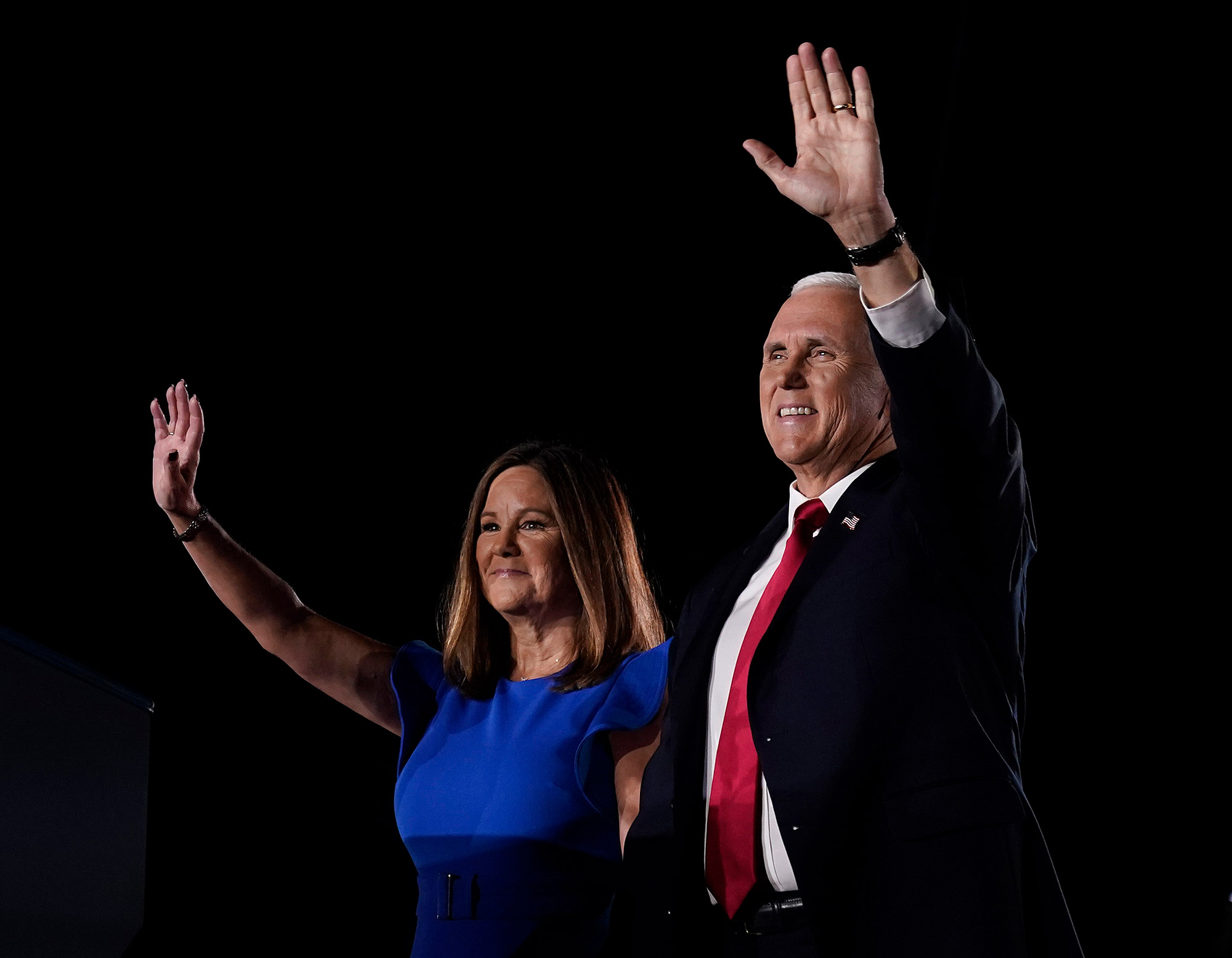 Vice President Mike Pence and second lady Karen Pence attend the Republican National Convention on August 26 in Baltimore, Maryland. Drew Angerer/Getty Images
Vice President Mike Pence and second lady Karen Pence will be at the Rose Garden for President Trump's formal unveiling of his Supreme Court pick at 5:00 p.m. ET, according to the Vice President's daily guidance.
Pence has no other events on his schedule today.
1 hr 17 min ago
Guests headed to the White House for the SCOTUS event say there's been no mention of coronavirus tests
From CNN's Kate Bennett
Two guests invited to attend Trump's Supreme Court nominee announcement in the Rose Garden event today – Notre Dame colleagues of Judge Amy Coney Barrett, who sources have told CNN the President is intending on nominating – said there was no mention of being tested for Covid-19.
The guests told CNN none of the logistical emails they received from the White House mentioned possible testing.They were told to arrive at the White House at 4 p.m. ET, and they received the invitations to attend the event early Friday.
Barrett has been on the faculty of Notre Dame's law school since 2002.
There are approximately ten Notre Dame Law faculty going to the Rose Garden event, one of the attendees told CNN.
White House spokesperson Judd Deere told CNN that anyone in close proximity to the President will be tested, and that there will be social distancing measures at today's event.
2 hr 6 min ago
Senate Judiciary Democrat says he'll meet with Trump's SCOTUS pick
From CNN's Ali Main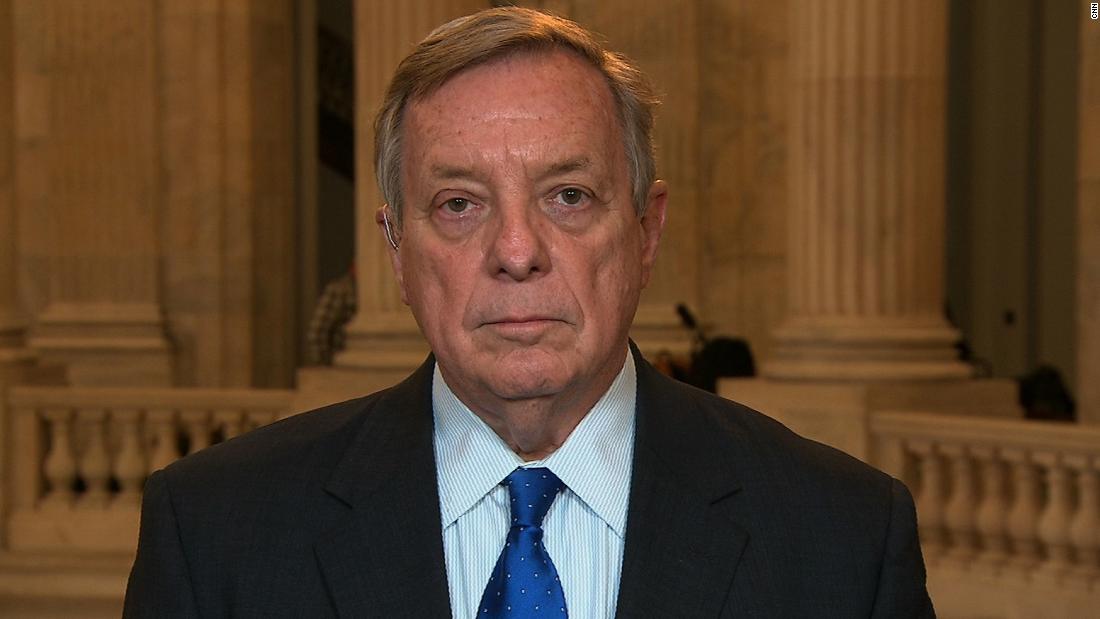 CNN
Sen. Dick Durbin, the Democratic whip and a member of the Senate Judiciary Committee, told CNN's Michael Smerconish that he plans to meet with and attend the confirmation hearing for President Trump's Supreme Court pick.
Several Democrats told CNN this week they won't bother meeting with the nominee now over their concerns with the expedited process in the Senate.
Durbin told Smerconish, "I can only speak for myself," and noted that he's spoken to every past nominee to the high court because he thinks it is "not only respectful, but it's important."
"I plan on establishing some sort of contact, safe contact for both the nominee, myself and my staff in a courtesy manner," Durbin said, adding that he also plans on attending the nominee's hearing.
CNN reported on Friday that President Trump intends to nominate Amy Coney Barrett, according to multiple senior Republican sources with knowledge of the process.
Durbin would not definitively weigh in on Barrett's qualifications, but he did express interest in learning more about the judge's views on the Affordable Care Act, as the court will hear oral arguments for the Obama-era healthcare law on Nov. 10, and the President's recent refusal to commit to a peaceful transfer of power if he loses the election.
2 hr 17 min ago
Trump's expected Supreme Court nominee is set to start making courtesy calls on Tuesday
From CNN's Manu Raju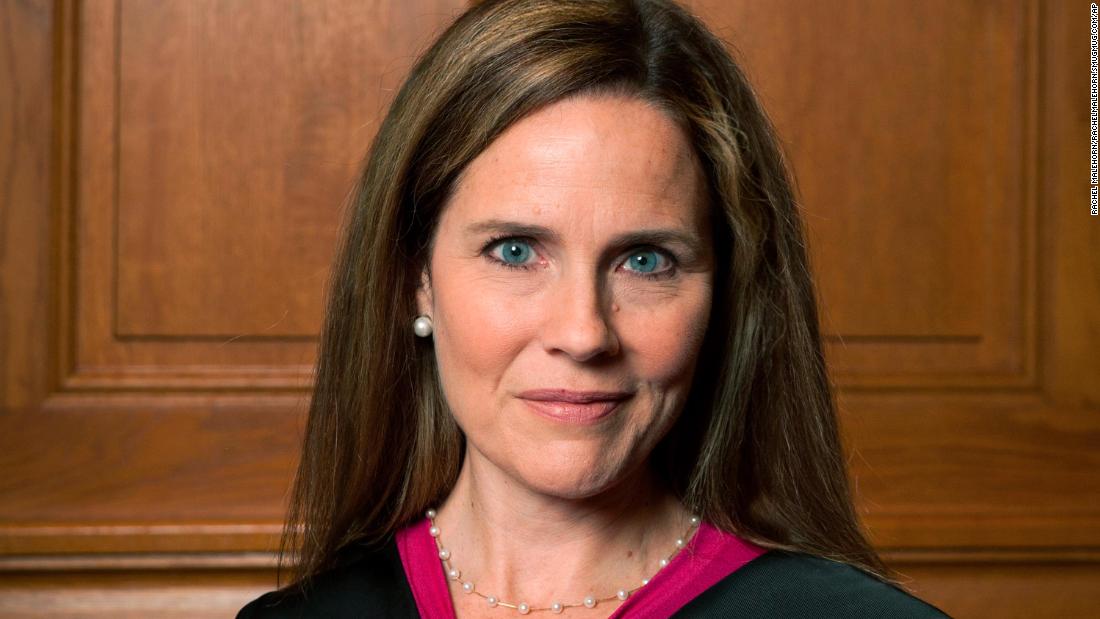 Judge Amy Coney Barrett Rachel Malehorn via AP
If Judge Amy Coney Barrett is nominated today for the Supreme Court vacancy — as sources have told CNN the President is intending — she is expected to be on Capitol Hill Tuesday to begin courtesy calls, per GOP sources.
She'll also meet with Majority Leader Mitch McConnell then, sources said.
More on a possible timeline: Senate Republicans, who have the majority in the upper chamber, have signaled plans to quickly move to take up the nomination in the midst of an election season where control of the White House and Congress are on the line, setting the stage for the possibility of a final confirmationvote before Election Day on Nov. 3.
That timeline would leave no room for error and only a little more than a month for the Senate to complete the confirmation process.
2 hr 51 min ago
This is the last weekend before Trump and Biden face off in the first presidential debate
From CNN's Kate Sullivan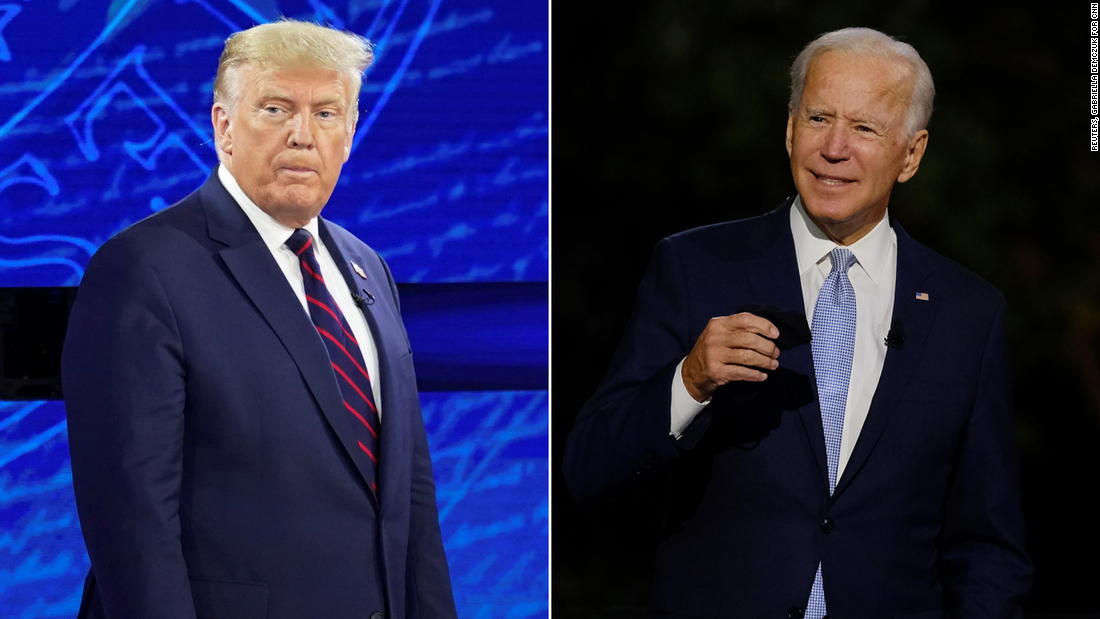 The presidential debates are around the corner, with Democratic nominee Joe Biden and President Trump set to square off for the first time on stage next Tuesday.
All debates are scheduled to take place from 9 p.m. to 10:30 p.m. ET on their respective dates without commercial breaks.
Here's what we know about the first debate:
Moderator:
Fox News' Chris Wallace
Location:
Case Western Reserve University and Cleveland Clinic in Cleveland, Ohio.
Key topics:
Wallace selected
the following topics for the first debate
: "The Trump and Biden Records," "The Supreme Court," "Covid-19," "The Economy," "Race and Violence in our Cities" and "The Integrity of the Election"
Format:
Each segment will last about 15 minutes, and the candidates will have two minutes to respond after the moderator opens each segment with a question. Wallace will then use the rest of the time in the segment to facilitate further discussion on the topic, according to the commission.
3 hr ago
Trump will announce his SCOTUS nominee today. Sources say he intends to select this judge.
From CNN's Kaitlan Collins, Kevin Liptak, Ariane de Vogue and Pamela Brown
President Trump intends to choose Amy Coney Barrett to be the new Supreme Court justice, according to multiple senior Republican sources with knowledge of the process.
In conversations with some senior Republican allies on the Hill, the White House is indicating that Barrett is the intended nominee, multiple sources said.
All sources cautioned that until it is announced by the President, there is always the possibility that Trump makes a last-minute change but the expectation is Barrett is the choice. He is scheduled to make the announcement on Saturday afternoon.
Barrett has been the leading choice throughout the week, since Justice Ruth Bader Ginsburg died. She is the only potential nominee known to have met with the President in person, according to two of the sources. One source said Trump was familiar with Barrett already and he met with her since she was a top contender the last time there was a Supreme Court vacancy, when the President chose Justice Brett Kavanaugh instead.
Barrett was seen at her South Bend, Indiana, home on Friday. It was not clear if Barrett had been told she is the choice. Often that is done as late as possible to maintain secrecy around the announcement.
"The machinery is in motion," one of the sources said. In previous nomination announcements, the White House had multiple rollouts planned in case the President made a last-minute decision to switch to another candidate. But one source said it would be surprising if there were a change since allies are already being told.
The White House declined to comment.
"She was the plan all along. She's the most distinguished and qualified by traditional measures. She has the strongest support among the legal conservatives who have dedicated their lives to the court. She will contribute most to the court's jurisprudence in the years and decades to come," according to a former senior administration official familiar with the process.
Senate Majority Leader Mitch McConnell has made clear in conversations with Trump and White House counsel Pat Cipollone that the Senate GOP conference would be comfortable with Barrett, two people with knowledge of the conversations told CNN earlier this week. Sen. Todd Young, who hails from Barrett's home state of Indiana and leads the Senate Republican campaign arm, has also been an advocate, the people said.
The President indicated he has spoken to multiple candidates, but the White House has not been willing to say if other conversations were in person.
Barrett was at the White House on Monday and Tuesday of this week. She impressed the President and others during the initial meetings, two sources told CNN earlier this week.